I'm joining Ashley over at The Sweet Season blog for my first edition of fridays letters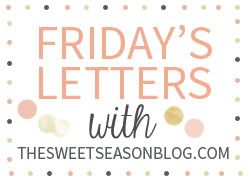 Dear snow
please don't come here. I don't want another week in the negative teens. Even though I love hot chocolate..
Dear roomies
stop sucking.
Dear exercise
please stop being so unappealing! I want to get into shape!
Dear yoga pants
why can't you be more socially acceptable?? You're all I want to wear :(
Dear readers
I love all of you, it means so much to have you here!
Dear mommy
I hope you had a great birthday yesterday I love you!
Dear spring break
why do you have to take my hubby away from me?? And why do you have to be so expensive and leave me here in South Dakota??
With Love, D