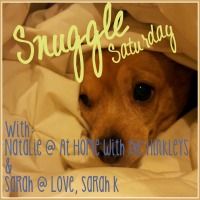 This is my first week linking up with Sarah and Natalie for Snuggle Saturday. It seems like a really fun theme so I hope you enjoy this and link up with them as well!!
1. Describe your most memorable Valentines Day?
That would definitely be this year! It was really a regular day, we didn't go out to dinner, we had classes, and Ryan had practice. The only thing I did was make Ryan a heart shaped cake, but he really surprised me and got me a ring. No, not THE ring, a promise ring. It's still the most meaningful and special present he's given me!!
2. Describe your worst Valentines Day?
This would have been 2010 when Ryan and I had broken up for some time. I'm not gonna go into much detail, but I am gonna say he wasn't a good guy for a while. He was dating another girl and I was still having a hard time with the break up. I did get dressed up and look nice for the day and that always makes a girl feel better, right? A friend of mine knew about everything and sent me roses at school to make me feel better.
3. What's your ideal Valentines Date?
I don't really like going to expensive restaurants so I would really like to just cook a nice meal and spend some time alone. We're always around our roommates or other friends, so it would be great to have a night just the two of us!
With Love, D